We're pleased to offer the following services at Ellington Center Animal Clinic P.C.: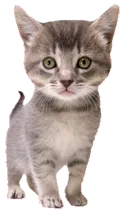 Our receptionists and team will attempt to accommodate all requests to the best of our ability. Emergencies are accepted anytime our clinic is open. If you feel you have an emergency with your pet, please call us or come in immediately. If possible, please call before coming in so that a staff member can advise you on your particular emergency.
Emergency:

Walk-in emergencies will be assessed by our skilled technicians and veterinarians as soon as you enter the building. Calling ahead allows our team to prepare for the emergency. We will do everything we can to address your pets' needs as quickly as possible. Life threatening emergencies will be seen immediately. Non-urgent cases will be seen when time becomes available.
Sick Pet & Urgent Care Appointments:

When your pet is very sick, please do not wait. Sudden injuries or severe illness should be seen as soon as possible. Please call whenever you notice signs of illness or injury so our skilled team can help you determine if it needs to be seen right away. We try to see as many same day / urgent care appointments as we can. However, we sometimes need to refer patients to nearby animal emergency rooms.
Comprehensive Physical & Wellness Exams

Our doctors take great pride in providing comprehensive physical exams from nose to tail. Puppy and kitten exams help ensure they grow into happy, well-adjusted, healthy adults. A comprehensive physical examination performed yearly is the most effective means of detecting illness and disease at the earliest and most treatable stage. Pets with chronic health conditions and our most senior pets schedule health exams every six months when more medical management is needed. Often, a treatment progress exam will be needed to see how a pet responds to treatment such as an ear infection or an injury to the eye.
Technician Appointments
A patient that has been seen by one of our doctors recently may schedule routine procedures without a doctor's exam. Procedures such as nail trims, expressing anal glands, or completing a vaccine series will not be seen by a veterinarian in the exam room. The patient will enter the treatment area for the procedure and brought back to the reception area when the procedure is completed. Clients will only be charged for the cost of the procedure itself.
Surgical Care:

Patients in need of surgery are admitted to the hospital between 7:30am - 8:30am. Please follow the pre-surgical instructions provided to you with regards to feeding and drinking and giving any medications on the day of surgery. Patients are admitted to the hospital and assigned a comfortable kennel. While they get accustomed to the sights and sounds of our treatment area, the doctor performs pre-surgical physical exams and runs pre-surgical blood work. It is important to be available by phone if the doctor has any questions or concerns prior to surgery. Then the doctor and technicians begin each surgical procedure. Each pet is attended to by our caring team from start to finish, They wake up from surgery with a technician who continues to monitor their vital signs until they are fully awake and able to stand. After all surgeries are complete, and all the patients are in post-op, our doctors will call each client to discuss a discharge time and any after care instructions. Clients can review any medications and discharge instructions with the technician again when the pet is discharged at the end of the day (usually between 5pm and 7pm).
Dental Care:

One of the best things you can do for your pet's health is to keep their teeth and gums healthy. Routine brushing and/or dental wipes to remove plaque can help prevent calculus and tartar. Gums can readily become inflamed as bacteria set in and bad breath becomes intolerable. Without removal of the tartar, gingivitis and disease will take a toll on your pet's health. Our doctors will examine your pet's dental health as part of routine health exams. If anesthesia and dental care are needed, we are equipped with the latest dental equipment including dental x-ray, scalers & polishers.
Radiology:

Ellington Center Animal Clinic has a full service radiology suite, including x-ray and ultrasound. We may be able to image your pet during a 30-minute exam, but if your pet needs sedation, we may schedule the procedure and admit your pet to the hospital. If the mobile internal medicine specialist is needed to consult with our doctors, a date will be arranged with the specialist and the patient will be admitted to our hospital for the day.
Laser Therapy:

Therapeutic laser is a drug-free, surgery-free alternative to treat your pet's pain with the Companion Therapy Laser® System. If your pet suffers from arthritis, joint disease, or chronic disorders, call today to setup a doctor's evaluation and treatment schedule!
Pharmacy & Prescription Diets:

Our on-site pharmacy has the medications you need for your pet at competitive prices. We are happy to mail your pet's prescription to you (free shipping). We offer a single dose monthly home delivery program for the hard-to-remember monthly preventive medications. We offer automatic refills for pets on regular ongoing medications. If you prefer online shopping, check out our own pharmacy by clicking here. To buy any Purina Pro Plan diet, including prescription Pro Plan diets, visit https://www.proplanvetdirect.com...
Types of Pets Seen

We love all pets. All three of our doctors see dogs, cats, rabbits, ferrets, gerbils, hamsters, and pocket pets. We do not see exotic pets such as birds or reptiles.